Posted by Rob Walker on February 13, 2007
Posted Under:
Cuteness
Somewhere or other I read that this character above, Mashimoro, is supposed to be Korea's answer to Hello Kitty. Here is a series of Flash movies meant to establish Mashimor's cutness, for leveraging on a range of fine products.
Cute enough to take on Hello Kitty? I checked in with the world's reigning expert on these matters: Kyewt.
"Mashimaro is okkkkkkk…..," Kyewt says. "He's cute, but he's no Kitty. It's like, a different breed of cute. Koreans give it a good go, with Pucca too, but for me it's too narrative or something. Plus, the merch is usually of lesser quality.
"Knocking it out the box though, is San-X. I like them even better than Sanrio (don't tell Kitty). Their merchandise is great…the range is huge since it's a longtime manufacturer of 'fancy' goods (tchotchke!). The brand has lots of characters and they get cuter and cuter. My sister's favorite are the Mamegoma (tiny seals who eat soybeans and fit in the palm of your hand).
I am usually split between Rillakumun ("Relax Bear") who is always sleeping and loves tissues and pancakes, and Nyan Nyan Nyanko, the cat who morphs into foods.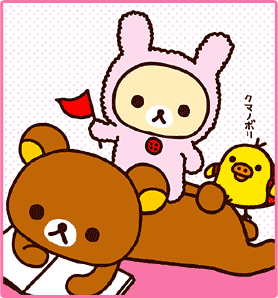 "With San-X and Sanrio, the characters have identifying personality features and maybe anecdotes (like Sanrio's Cinnamaroll, the orphan pastry who had good fortune enough to land in a bakery where he is now surrounded by friends) but it's so Japanese-y in its weirdness and sparseness…
"Whereas, like, Mashimoro uses bathroom humor. WTF? NOOOO. That's a little bit on the NOT CUTE side of things."
I expected a lot of Kyewt, but this is way beyond anything I'd imagined. It's an avalanche of cute.
Unfortunately, the interesting-sounding San-X does not seem to have made much in the way of inroads to the U.S./English-speaking world. I gather that some of its products are available through some retailers here, but the brand doesn't seem to have an English-language site. Kyewt is a jet-setter and, thus has access to the Japanese marketplace — not helplful to those of who don't get out much!
Still, a round of applause to Kyewt for this outstanding overview.
Oh, and one last note specific to cuteness and Japan: Apparently, SpongeBob is catching on there. According to the L.A. Times:
SpongeBob SquarePants attracts nearly 1.9 million Japanese households to his TV show daily and is raking in a growing share of the $5 billion in annual retail sales for Nickelodeon, the Viacom Inc. unit behind the show.

And he's doing it by capturing the hearts of Japan's young women — not children, his most loyal fans in the U.S.

"I started collecting Bob because I think he's cute and he stands out," said Mayu Takahashi, a 21-year-old student who was shopping in Tokyo's fashionable Harajuku district holding a SpongeBob tote bag. "Some of my friends say he's a creepy kind of cute."