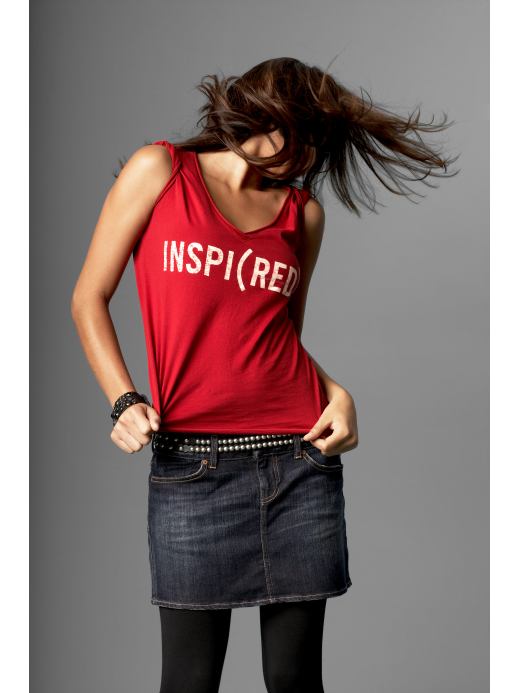 So what about this whole "Red" thing? I guess it's called "Product Red."
I'm sure you've come across it some place or other. Motorola, Apple, The Gap, and other companies have these special red products, see, and when you buy them, some of the money goes to "fight AIDS in Africa."
There was an issue of The New Yorker not long ago that was jammed with Gap "Red" ads, most of them featuring some celebrity or other. Reader Marc A. sent me a thoughtful note about this recently, focused mostly on the Gap's use of the Red thing:
I asked a handful of people immediately what they knew of the GAP ads, and most had it right. It was a chance to do something because most of us wring our hands in apathy. But if there's a constant vibe out there contending "What can I do about African poverty?" which is passive and sad and I understand it because I am it, there's also this acceptance of a campaign by GAP which is equally passive: "At least the movie stars are doing something about it." EW!

I see where he's coming from. I also tend to agree with him that Bono, who is involved in the Red thing, has done some good stuff, but, "why does he believe the best way to do something for Africa is by SHOPPING?"
Others have been more critical . A while back somebody forwarded me something Dave Marsh wrote in his newsletter about Red (he slammed it) in which a textile workers' union guy was quoted saying: "It's like if you took Bob Dylan's 'The Times They Are A-Changing,' used it to pitch Rolex watches and tried to convince people that if they bought enough luxury goods they could make a revolution."
Not only that:
Project Red is "damaging," novelist Emily Maguire wrote in Australia's Sydney Morning Herald, because it allows "the masses to do charity Hollywood-style. Don't think about unpleasant things, grapple with complexities or — God forbid — change the way you live and spend. Simply go out and spoil yourself…and that's it: You've done your bit." The Toronto Star's writer Jennifer Wells attacked the firms that participate in Project Red: "They…don't need to sell us stuff in order to do good. They can behave like the rest of us: cut a check."
That paragraph is from a recent Wall Street Journal editorial, which was pro-Red. Perhaps predictably, the main reason that the WSJ editorial page seems to be in favor of the Red thing is that people it perceives as liberals are against it. As the editorial admitted, Red pretty much fails at what should be the WSJ editorial page's key test: Apart from some Gap T's made in Africa, "Most of the cellphones, watches and other goods with the Red brand aren't manufactured in the countries that their profits will benefit."
That is to say, while you can make a case that the best way to help African countries, as a consumer, is to buy things that are actually products of, and thus directly build, African economies. "The energy spent persuading people to give money away might be better spent on promoting trade with poor nations, by far the best way to lift them out of poverty," the WSJ editorial said. But somehow the editorial doesn't really come to grips with the fact that this adds up to an argument against Red, not for it.
This matters in part to me because the "Red Manifesto" rather boldly claims that:
Red is not a charity. It is simply a business model. You buy Red stuff. We get the money. Buy the [anti-retroviral] pills and distribute them. They [Africans with AIDS] take the pills, stay alive, and continue to take care of their families…"
How is that not a charity? How is it a business model?
The project in general strikes me as an extended riff on the LiveStrong bracelets. You spend a dollar, you get something, and some money goes to a good cause. Of course, you could have given your entire dollar to the good cause, but never mind that. The upshot is that everyone agrees that the Livestrong bracelets raised a lot of money.
The theory, as I understand it, is that you're supposed to buy the Red version of something you were going to buy anyway. There's supposedly no markup, so simply by choosing the Red version of something, your purchase is infused with goodness.
And like Marc, I don't really want to come across as being against something that funnels at least some money to people who need it. But the way the participating brands are using this, it seems to me, is pure marketing. It's a way to give a "halo" (as they say in the trade) to an entire brand, without giving up profits from the brand's entire product line. And basically the same thing goes for most of the celebrities involved: They can look like they care, and they can ride free on the publicity machine that's part of Red's "business model." And now that I think about, that's basically the same thing Red consumers get: Give me good product, and throw in a little "I care about others" with that, willya?
As Marc put it: Ew.