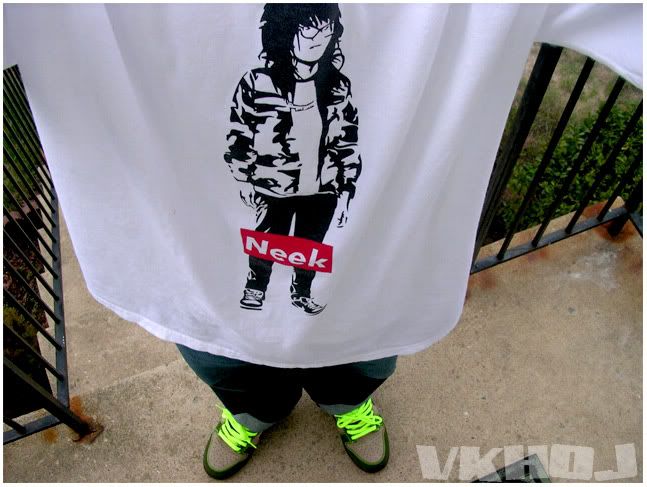 At some point during the reporting of the Brand Underground story, I was introduced to Neek, a high school student who was into The Hundreds, and was also kind of a figure on the NikeTalk message boards. Not long after that, in fact, his notoriety on NikeTalk culminated in someone making a Neek T-shirt. (That's it at left; the style is an echo of Supreme, of course.) Apart from being another reason that NikeTalk kind of freaks me out, I thought this development was fascinating: Neek had basically become famous by way of his fandom, to the point that he'd made some strange transition from consumer to brand. Of course when I say "famous," it only applies in the sense of 21st Century microfame of a super-fragmented culture. But still.
Anyway, Neek ended up not being part of the Brand Underground piece, but he's certainly an interesting manifestation of that culture, and we kept in touch. Lately he's gotten involved with a project called Fruition — another step on the road to converting his lifestyle into a way to make a living — and I decided it would be worth a Q&A. So here it is.
Let's start with the very straightforward background stuff about where you live and how you ended up there and so on — including where the name "Neek" comes from, if you please.
Yeah. I live in Vegas and I just graduated high school actually. I am 17 years old, turning 18 next month. I ended up in Vegas because my parents wanted to move away from the hustle and bustle in New York City. They wanted a more slow-paced life. So that is why I am here.
The name Neek. That's a funny question. People always asked me that. Here is how I came up with the name. One day I needed a new screen name, and it just hit me. Very corny, I know, but that is pretty much how I got that name. The name is now known to so many people now. Even people I know personally call me that. And it is very weird now when people call me by my real name.
We first met (by email and phone) when I was reporting about The Hundreds. It was kind of a while ago. I'm guessing you're still a Hundreds fan, since you popped up on their site recently, hanging out with them at Magic (the clothing industry trade show). What are your other brand favorites these days? Nike? Supreme? What else?
I like The Hundreds. And what they do. You got to give it to them for their blog. That made kids bookmark that site which made it a daily thing to check out. They get excited to see what The Hundreds did that day, or what products are coming out. The site is a great marketing tool in my opinion, because it seems like whatever they put on the site, kids these days go crazy over it. Hype is what it should be called. I did hang out with them during Magic.
The whole FRUITION family (explained more below), including myself, had dinner with them, along with the good peeps from Inquiringmind, and the Goodfoot crew, all from Canada. I have to say Bobby and Scotty are some crazy cats (in a good way). They are nice dudes.
My favorite brands currently are Vans Syndicates, Supreme, and blank white and black tees. Supreme for me is what got me into the streetwear game — my first brand I messed with. And Supreme will stick with me throughout the future.
Are you still active on Niketalk? At the time, you seemed to be some kind of Niketalk celebrity, how does that happen, you just post all the time? Specifically, I was kind of amazed that somebody was proposing to produce a Neek T-shirt, with a picture of you and a Supreme-logo-like treatment of the name Neek. Did those get produced?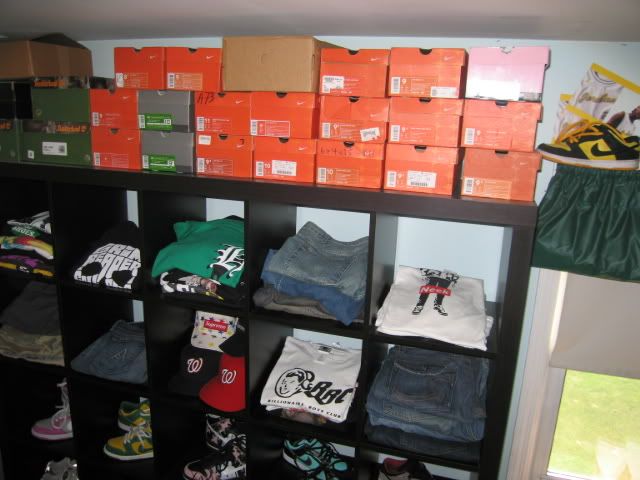 Yes I am still very active on Niketalk. I think that people noticed me because of what I was wearing in the pictures I posted there: skin-tight jeans with a pair of Nikes. It was a new style to a lot of people on Niketalk, and I had big hair (I still do), which made people even notice me more. Yeah, the Neek tee surprise me, too. There was this post about NT having a t shirt, and someone messaged me thru aim and asked if he could have my permission to produce a limited run of tee's. I gladly accepted and in no time at all they were produced. They sold out in a heartbeat.
And now you have a blog, why'd you start it, what are the plans?
Yes I do have a blog now (Neek's Daily Goods). I started it because I like to show people my daily life. For me it is interesting to see someone's life, to see what he or she does on a daily basis. From random things to crazy things. I like to show people whatever I see.
Tell me about Fruition, what's that all about, how did it come to be, and what are the plans/goals/dreams for that one?
FRUITION is a movement that was started by my mentor and good friend Chris Julian here in Las Vegas, and I have been lucky enough to work with them for the past few months. It's the only vintage street wear store in the nation, and pretty safe to say the world. We carry the brands that are the inspirational building blocks and cornerstones to today's new street wear products, from trend-setting 80's-90's campaign Nike graphics to deadstock Troop and Ewing apparel; we are bringing style back to street wear and giving kids an opportunity to be different again.
Street wear is becoming more and more mainstream every day, almost like a uniform. So for us it is about bringing fashion, not just vintage, to street wear. By opening kids' minds up and educating our customers about the colorful history of street wear, we are not only pushing the creative envelope within the community, but are more importantly creating a new generation of great thinkers and innovators. It all starts with our positive message: "Fruition" means the realization of something desired or you can basically think of it as achieving your dreams. Not only are we living our dreams every day by doing something that we love, but we want to inspire kids to follow our lead and reach their dreams as well in order for their to be better street wear products, nicer stores, iller concepts and at the end of the day that's what it's about for us, making sure that we make an impact on our customers positively.
My experience has been great, I've started to learn the business more, met a lot of great industry connects for the future, and FRUITION has really opened my mind up creatively. We are in a unique position to not only be young and set trends, but actually back it with quality product, good business and a positive message. We are definitely changing the way people look at street wear one day at a time. Check out FruitionLV.com for more; location, hours, and contact info are here.
Murketing.com thanks Neek for his time and his answers. And I'll definitely check out Fruition next time I'm in Las Vegas.