Here's an interesting case of … something.
I was interested to see a BoingBoing post about spotting this T in the East Village: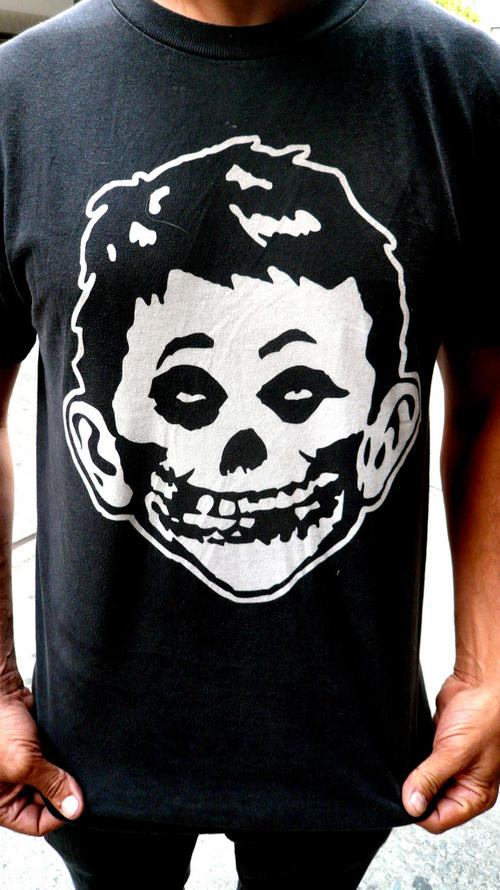 While it's suggested this Misfits/Alfred E. Neuman graphic mashup is something new and mysterious, I recognized as a design from aNYthing, from a couple of years ago. (At the time, aNYthing was the brand of Aaron Bondaroff, and was part of the Brand Underground article that appeared in the NYT, some of which I used in Buying In; as discussed in the book, Bondaroff is no longer associated with aNYthing. You can actually spot this graphic in the opening spread of the magazine story.)
I monitored the comments to see if somebody would point this out. Soon someone did, noting that the "Madfits" T has been "out of print for a couple of years." Then there was a comment from someone who identified himself as Seemen Spermz, and who I guess might be Bondaroff, though it might also be a friend/associate who worked with him for aNYthing — in any case the person says he did the original design. He links to this site, which is pretty much information-free.
Meanwhile I checked the site of Bondaroff's new project, Off Bowery. The current clothing selections include some variations on the Madfits character — on some caps, a T, and a long-sleeve T. As you can see, the Madfits icon now sits a top a modified Mickey Mouse body, giving the finger.
And finally, checking back to the BoingBoing post's comments, someone chimed in to say: "You can either call me a hero or a villain, but I took the time to recreate this. It can be found in sizes Adult Small through Adult XXL at my Etsy store." And indeed, here it is:
The listing says: "THE ALFRED E. MISFITS SHIRT: As seen on Boing-Boing. … You would have to be MAD not to want one!" It's $12.95.
Both Seemen Spermz and the Etsy seller joke about where to direct lawsuits. I assume it's the case that Warner Bros., which owns Mad, would rather other people not make money off Alfred E. Neuman's image. I'm also not sure that The Misfits would be into this, but who knows, maybe they wouldn't care.
Interesting, though, to see this particular remix take this extra step: It's not clear to me whether the Madfits image would belong to Bondaroff, or aNYthing, and what either would make of the idea that some third party has come along to reproduce and sell the image —  "as seen on BoingBoing."
And then there's the question of value. Assuming you like this graphic, you'd probably see some value in having one of the original T-shirts from 2006. But would you find the same value in a copied version by someone else? Would the fact that it's been made BoingBoing-famous in the meantime help or hurt? And if you already own one of the original T's, has it just gained value, or lost value?
I'm not really expecting answers to those questions, of course. (I mean, you can answer if you want to.) Just something to think about.